Market leader in the corporate segment*
Mandatum's corporate clients include large cap, mid cap and small cap companies and entrepreneurs. The company offers these clients unit-linked group pension insurance, individual pension insurance, group risk insurance, individual risk insurance, and reward and compensation, personnel fund and pension fund services. Companies and corporate decision-makers with excess wealth are also potential wealth management customers.
A significant standing in the corporate segment* means having a broad point of contact with Finnish corporate decision-makers. This enables the cross-selling of products and services as part of managing and growing the overall client relationship. For example, currently, around 70 per cent of Mandatum's wealth management customers have a business connection. According to the management's assessment, the corporate segment enables Mandatum's access to significant new and stable customer flows.
---

*Based on 2022 market shares in corporate insurance and pensions (Financial Supervisory Authority). Mandatum has an approximately 48 per cent market share in corporate clients' unit-linked group pensions in the core markets. The share has been calculated bearing in mind the data on Mandatum's own premiums written and the sector's statistical premiums written.


---

Private customers are served directly and through partners
Private customers receive individual personal risk insurance covering death, unemployment and serious illness, and digital wealth management and investment solutions. Furthermore, Mandatum offers its private customers access to more than 70,000 investment instruments through Saxo Bank's trading platforms. Insurance and investment solutions designed for private customers are mainly distributed through the partnership with Danske Bank and directly through Mandatum's telesales and digital sales.

The effective management of the with-profit investment portfolio to generate capital and finance growth initiatives
In recent years, Mandatum has been able to create strong risk-adjusted investment returns* for the assets covering the with-profit insurance portfolio's liabilities and shareholder assets. In addition, Mandatum's strategy has been to accelerate the reduction of the with-profit portfolio. Together, these factors have enabled a strong cash flow and the financing of growth initiatives and maintained strong solvency.
The higher general interest rate level has made it possible for Mandatum to significantly reduce the risk profile of the investment assets covering the with-profit portfolio's liabilities and shareholders' assets by increasing the hedging ratio and allocation in fixed income investments.
* Mandatum's original with-profit portfolio and shareholder funds had a median 6.7 per cent return between 2013 and 2022.
Development of Mandatum's solvency position between 2015 and 1-6/2023 (EUR million, unaudited) 1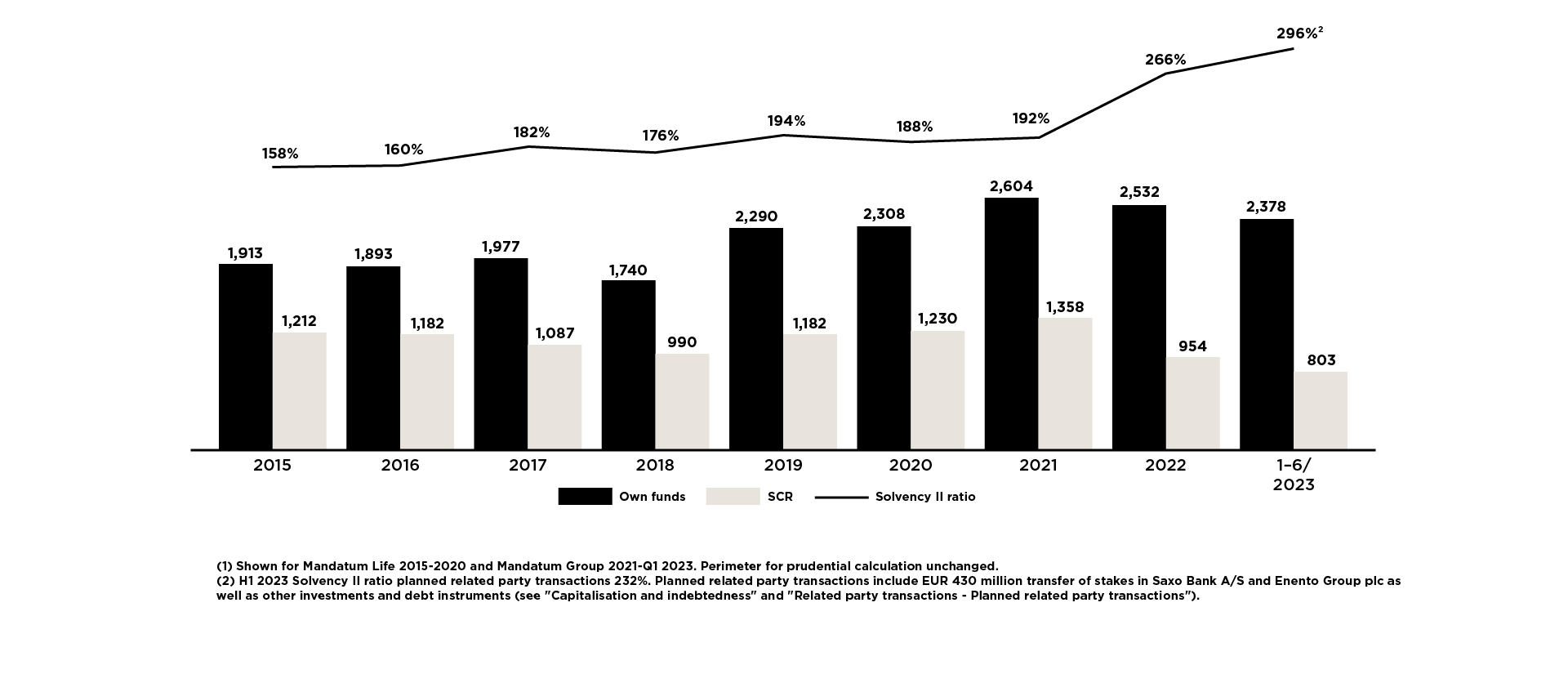 Historical development of Mandatum's liabilities between 2001 and 1-6/2023 (EUR billion, unaudited) 1